I was asking
Dozy
for permission to put his picture on my blog, of course his answer was that I needed no permissions -awwh!- Still there was one detail that was keeping me from doing it right away, I needed a picture of Dozy by himself and I did not have one.
We talked again a few days after that and he had taken a few pictures with his webcam; yahoo did not let me download the first one but I did get the second one in which he was wearing his turban, had a huge smile and looked like a character from the Arabian Nights. Then he put another picture of himself in the messenger window, and I was surprised almost chocked by this unexpected sight... Not only wasn't he wearing his turban but also he was wearing his hair down and it looked all frizzy like he had just come out of the shower. As much as I enjoy describing
Dozy's hairs
I enjoy sharing his photo with you even more, regardless of your answer to the title of this post.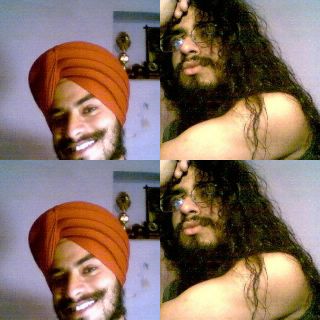 Dozy and his hairs



Now people are going to think that I am crazy about hair, but like I said to Dozy, it's only about his hairs ...hehehe...

Ah! When I think that I met Dozy in an Italian room while neither one of us speak Italian...